Hurom juicer has a decent product designed specifically to maximize the output of slow juicing.
Thus Huron is known to be the leader in the slow juicer market.
Choosing either the fast or slow juicer is always the matter of picking up the right juicer.
Benefits of Hurom Slow juicer
Either one of them comes with a set of advantages and disadvantages.
It is important to know those things to determine the need for a juicer, whether fast or slow.
A fast juicer is also known as a centrifugal juicer or simply a conventional juicer.
It features sharp blades rotating at high speed to create the juice of anything put inside its container.
The outcome of a fast juicer is a juice that is not even in its form.
Let it aside for a while, and there will be the thick juice at the bottom, water-like liquid form in the middle, and a bit of juice foam on top.
It is fast, of course, in getting the juicing done, but it tends to be a bit noisy.
Moreover, it is said to produce lesser juice without maximum nutrients.
A fast juicer is not good for leafy greens juicing as well.
Meanwhile, Hurom juicer offers its best range of slow juicers to get all the advantages of slow juicing.
Read Next – HUROM Elite HRM003 Slow Juicer
Hurom Juicing Guide: How to Start Juicing
In other words, it is known as cold pressing. In short, the output of a slow juicing process is an evenly juiced extract of both vegetables and fruits.
It has no blades in which the juicing is done by pressing and crushing the ingredients inside in a slow process.
It retains as much as possible from fruits and vegetables being juiced in it.
So, slow juicing is the best way to get all of the nutrients from any juiced ingredients.
There are many different models of slow juicer from Huron.
Read Next – Hurom HK Slow Juicer
Importance of Slow Juicers in Everyday Life
Each one of them is packed with a warranty for the motor for ten long years.
This is a decent benefit of a slow juicer, though.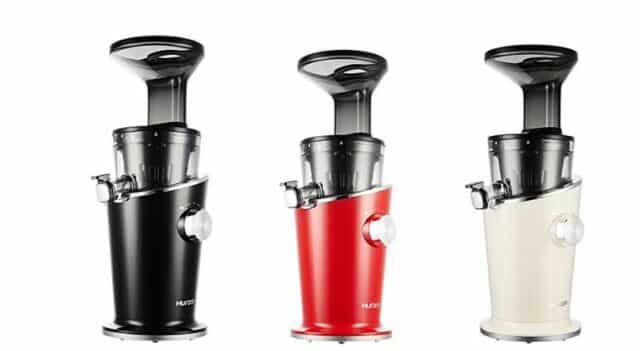 The motor works at a slow speed or pace so that it tends to last longer compared to a motor in a fast juicer.
More importantly, both the quality and the features available will be helpful for anyone using it every day.
In the end, Hurom juicer as a slow type juicer offers a set of good things compared to a fast juicer.
Read Next – Hurom Slow Juicer last 4th Generation
FEEL GOOD Green Juice Recipe | Hurom Slow Juicer 
Read Next – Orange Juicer Machine Tesco
Hurom Elite Slow Juicer Model HH-SBB11 Noble Silver with Cookbook
out of stock
as of September 28, 2023 2:55 pm
Juicer Machines, Aicok Slow Masticating Juicer Extractor Easy to Clean, Quiet Motor & Reverse Function, BPA-Free, Cold Press Juicer with Brush, Juice Recipes for Vegetables and Fruits
$199.99


$

159.99
out of stock
5 new from $159.99
11 used from $60.26
Free shipping
as of September 28, 2023 2:55 pm
Hurom HH-SBB11 Elite Slow Juicer with Cookbook - Noble Silver
out of stock
as of September 28, 2023 2:55 pm
Hurom CJ Citrus Juicer (Silver)
out of stock
as of September 28, 2023 2:55 pm
HUROM HZ Slow Juicer, Silver
4 new from $499.00
Free shipping
as of September 28, 2023 2:55 pm
Breville JE98XL Juice Fountain Plus 850-Watt Juice Extractor
5 new from $179.95
12 used from $138.07

as of September 28, 2023 2:55 pm
HUROM HZ Slow Juicer, Silver (Renewed)
as of September 28, 2023 2:55 pm
Hurom H-AA Slow Juicer, Matte Black
4 new from $399.00
Free shipping
as of September 28, 2023 2:55 pm
Hurom H101 Easy Clean Slow Juicer - Pearl Black
2 new from $399.00
1 used from $353.27
Free shipping
as of September 28, 2023 2:55 pm